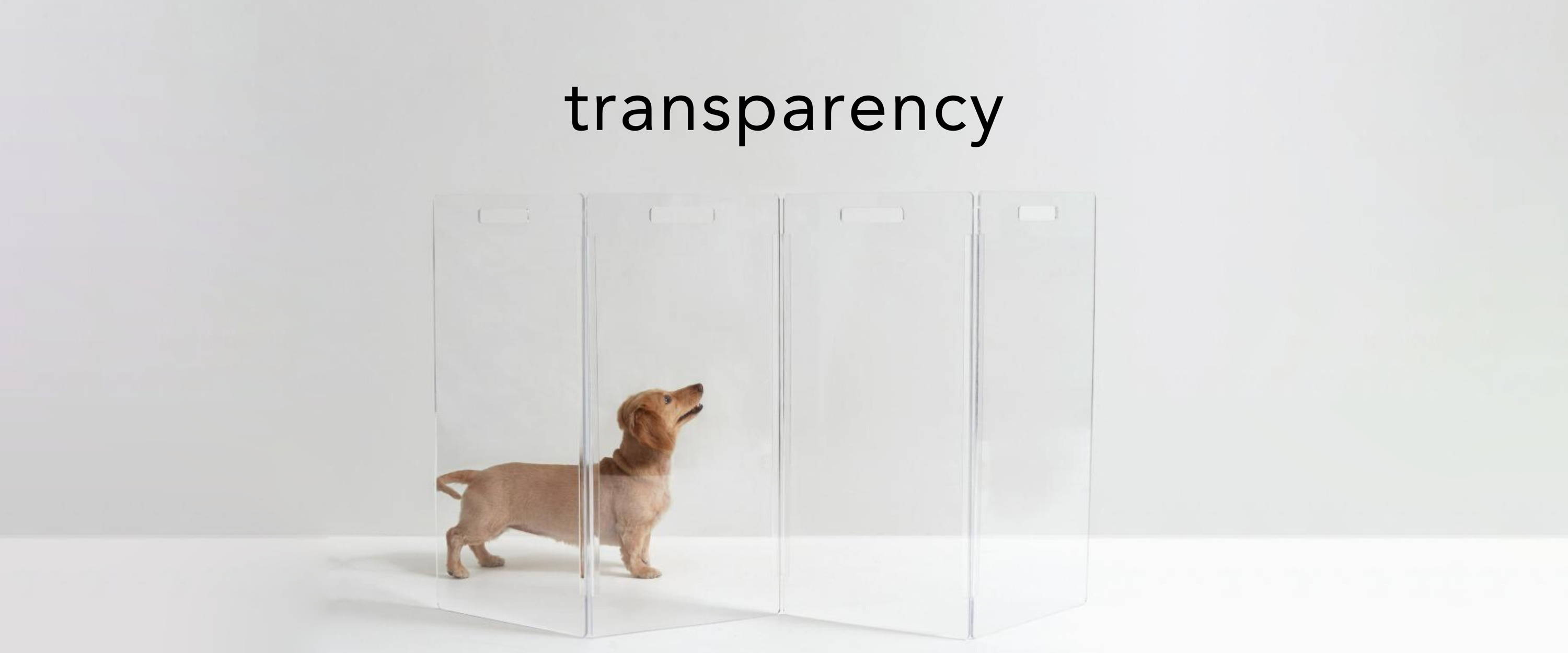 We have a commitment to provide the greatest degree of transparency we can about each of our clear pet products.
We work with the very best makers throughout the United States to create beautiful pet products for every pet, pet parent, and home.
Each Hiddin product starts with our in-house interior design team led by Tracey Butler, a NYC-based interior designer with over 25 years of experience and passion for pets and the beautiful products they need and use most.
We're inspired by modern, sophisticated designs that offer pet parents the functionality they need in a pet product, that easily fit in any modern home's décor. But perhaps even more important than style is the great care we take when designing with every dog and cat in mind. Our kind, thoughtful approach to product design considers the pet's experience, ensuring a safe, comfortable, high-quality, and stress-free environment for every pet. That's why our products feature a clear, un-obstructive view that offers the pet a friendly, stress-free play to rest, sleep, eat or play.
We purposefully work with US-makers, and source the finest materials for our products.
Each product is created in collaboration with makers from around the United States to result in the perfect shape, size, ease of use and more -- considering every detail to get the final product just right. 
We also source the highest quality materials that help ensure our products are beautiful and made to last. 
We're confident in the quality of our products, and that you'll love them, too.
In addition to being committed to transparency in our product design, we're also committed to fair pricing without traditional industry markups. 
We want luxury pet products to be accessible. We work in partnership with makers in the United States to craft the very best, high-quality pieces, also at quality prices. 
It is because of our customers -- because of you -- that this year we were able to reduce our prices across all Hiddin product lines. Our growing popularity and success since founding the company in 2021 has allowed us to negotiate bigger, higher quantity orders with our makers. Rather than keeping the excess markup, we're passing those savings on to you as a sincere, enthusiastic THANK YOU! If it wasn't for you, this new pricing structure wouldn't have been accessible to our small start-up. 
Our product design process, hand-formed production methods, USA-based manufacturing partners and high-quality lucite all remain unchanged at Hiddin. It's just the company-wide pricing reduction that we're thrilled to implement in just our second year of business, which is in large part because of your overwhelming support. 
A sincere thank you to you, our Hiddin family! We appreciate your on-going support and are here for you and your beloved pets, clearly!